Hello, welcome to my second blog post!
Thanks for stopping by again.
I came back to my precious Tokyo on Wednesday evening last week after a whole month in Europe spent with my family in Sweden and travelling around and attending a most outstanding wedding in Scotland. It was absolutely great but coming home is always the best thing and Tokyo is home to me.
Usually it's pretty easy for me to adjust to this time zone, more so than when I'm going in the other direction but this time it took me a whole week! Yesterday night was the first that I didn't wake up between 2 and 5 AM and couldn't fall sleep again until a couple of hours later in the morning. So finally I feel more or less acclimatised.
I've been thinking a lot about, not only what I want to write here but also about how I want to write it. What to share and what not to share. How to make it both interesting and personal without giving neither too much nor too little of myself. There's a fine balance between I think but I guess I have to figure that out little by little. What is important to me is that whatever I write and choose to share here, I want it to be real. Social media often portrays people's lives as prefect, and it sometimes gives a fake image of the reality that is hard to live up to or feel a connection to. I don't want that. I want the people who come here to read my blog to be able to relate. To recognise themselves maybe. I do think that I live the most exciting life ever, probably much more than many others, and I wouldn't change this for anything, but it is by no means perfect. I struggle with life and everyday problems just like everyone else and I want to share those things too.
But today will be about gratitude. I feel like I've been living on a cloud since I got back. Coming back to Tokyo this time equals a new chapter in my life and it started with me being picked up at the airport by a friend of mine. He said that since this is a new start for me it shouldn't start with a long bus ride to the city late in the evening. So instead I was transported directly to my front door in a beautiful white Tesla and once home I was greeted by a happy boyfriend who was wearing the biggest and most beautiful smile I've ever seen. The largest bouquet of flowers I have ever received was waiting for me at the table along with a beautiful little birthday gift. A wallet sustainably made from banana leaves, very organic. Such a thoughtful gift, he knows me so well by now! It's made in Micronesia which I think made it even more special. And then I don't know if he felt like he needed to compensate for the fact the wallet was so small and thin because his other gift to me was huge! The man got me a new washing machine! And if you knew how much I've been complaining about the old one you would understand what a big deal this was and how absolutely satisfied I am. I love washing now! The machine is pretty (the old one was terribly ugly!) and it smells so good once the laundry is done. I love it! Tack Älskling!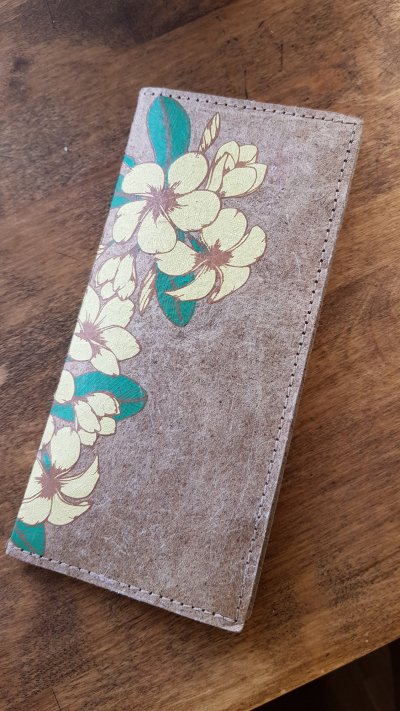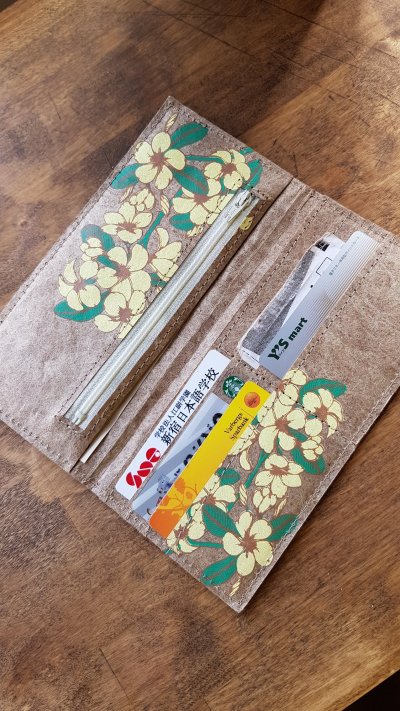 Beautiful, right!
As if that wasn't enough, he took me to dinner the next evening. I knew we were going to Daikanyama but I had no more specific information than that. Once we got there I understood why it was kept a secret. A friend of ours, Mei, a super sweet girl that lives in David's old share house, is a chef there! She had recently switched workplace and I was so happily surprised both with her delightful presence and the fantastic food! Her specialty is dessert so by the end of the dinner we had the most amazing cake! I was full until afternoon the next day.
If you're in Tokyo I strongly recommend you to go there, the place is called Kashiyama Daikanyama.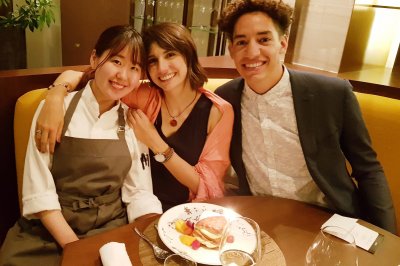 Not only Mei-chan, the entire staff was amazing!
But she's of course the most special.
On Friday my best friend came over. We hadn't seen each other in over a month and hearing her cheerful and happy greeting screams as she opened the door to the apartment and how she then threw herself at me, giving me a ton of hugs and kisses was and always in the most wonderful thing ever! When your friend literally jumps in excitement when seeing you, you know she's special. That would have been enough. I would have been so happy just having her there but first she threw a big present in my arms and put a bottle of champagne my hand. There was only one thing to do after that - Let the celebration begin!
There was a lot of talking and catching up obviously, some fun cooking, good drinks, more hugs a lot of laughing and pictures taken. Couldn't have spent my Friday in a better way!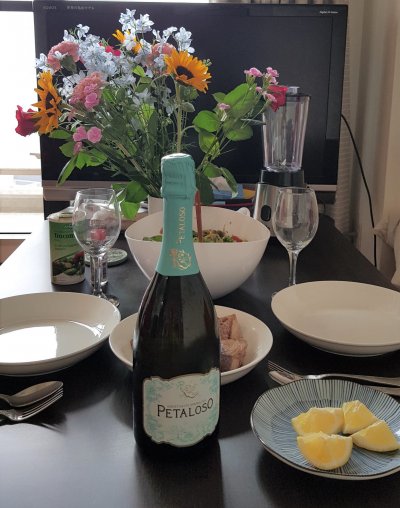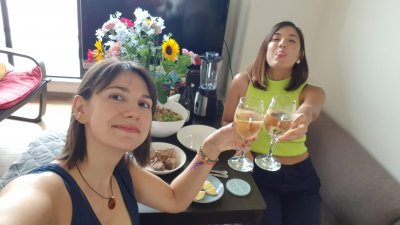 Cheers Sista!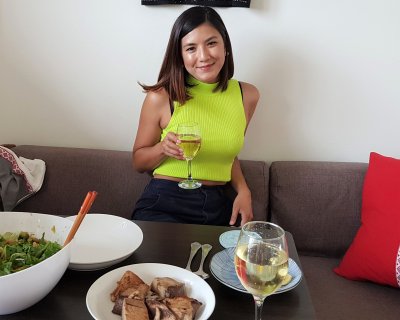 She's my superstar! And a Beauty!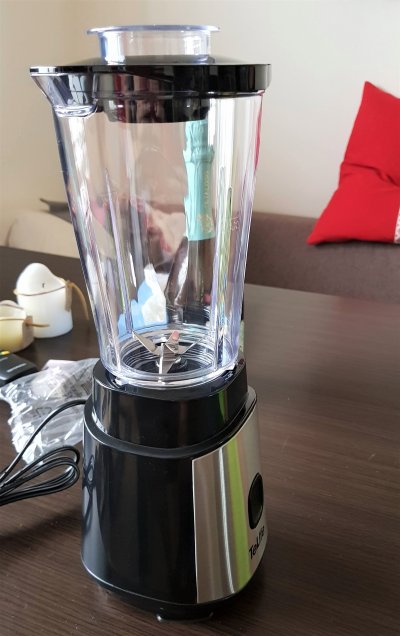 And she got me this very wanted mixer! Finally I can make smoothies again!
And then there was Saturday. And after those previous fantastic days, the best was yet to come. I knew that there would be a little birthday celebration for me that day as well, but I hadn't organized anything. I Just knew that some people were going to come over some time in the evening. What I didn't know was that when David took me out for that ramen lunch I had been craving for weeks, he left the door open and when we got back I was jumped at again, balloons were thrown, people sang and hugged me. The people who could make it early in the afternoon threw me a surprise party and the rest joined later. I got a taste of what it is like to be surprised of on your birthday last year here in Japan by the same friends, but I've never experienced anything like this. I can't even describe how grateful I am and how proud I am over all those amazing people. They all gave me the most joyful and fantastic evening and night that didn't end until 7 AM the next morning. You know it's successful when literally everyone is dancing in your kitchen and then continue throughout the night. THANK YOU EVERYONE! If everybody had friends like I do this world would be at peace.
And Vindu, a little extra thanks for dressing me and making me ready for the night!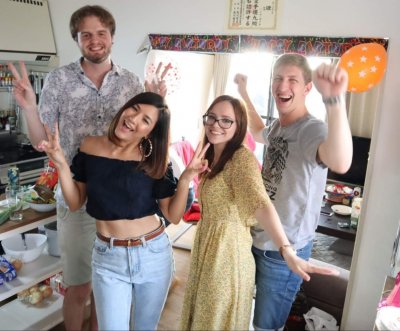 The organisers of my surprise party (+ Anri and David)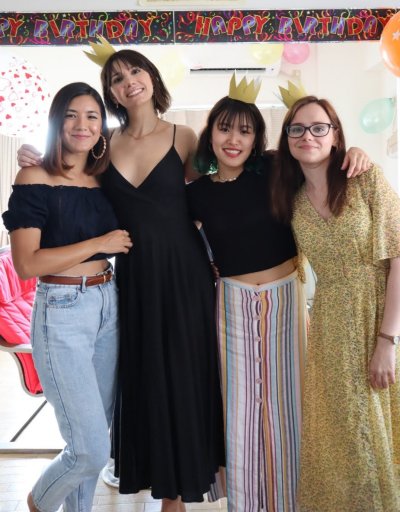 With my princessses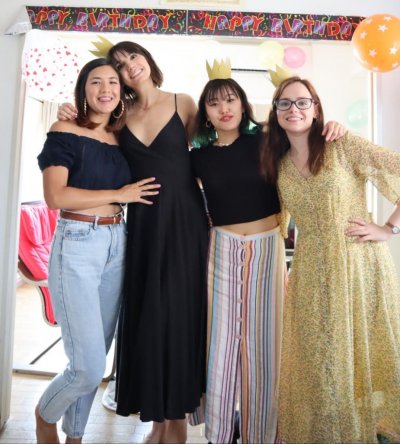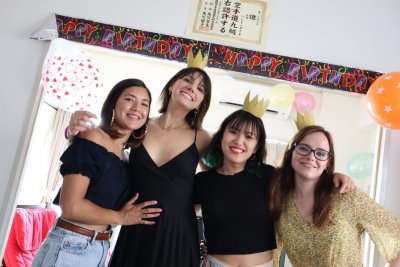 Not the most flattering angle, but oh well!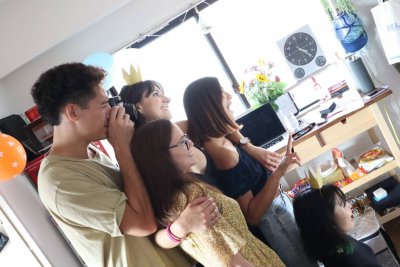 Let's take a picture of us in the mirror!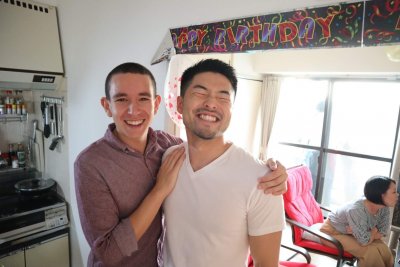 Zaki and Daiki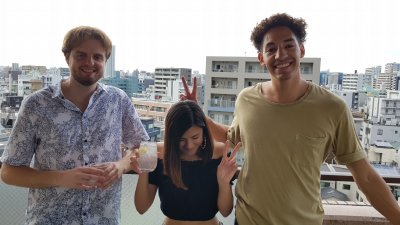 Viktor, Vindu & David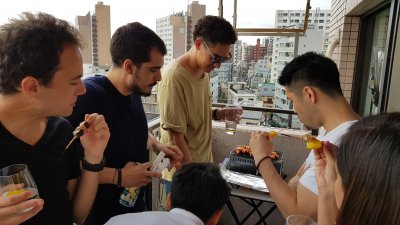 Some yakitori, anyone?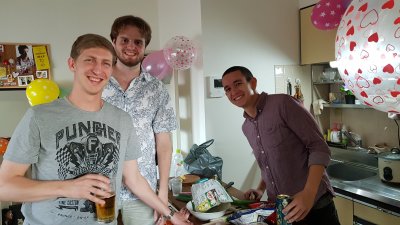 Fiodar, Vik & Zaki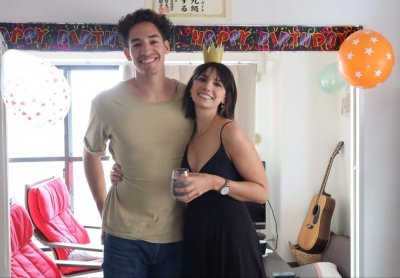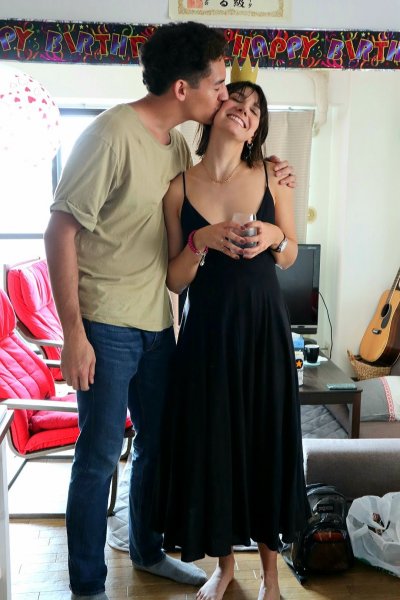 I'm a lucky girl!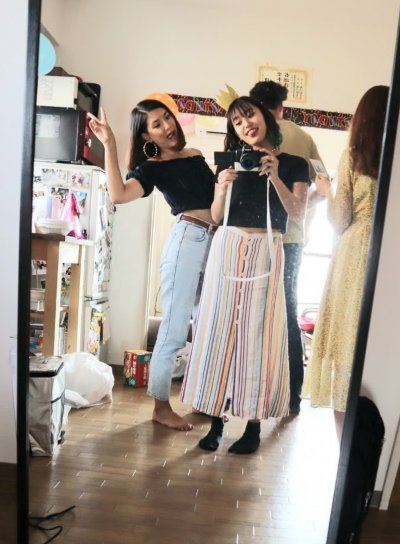 More mirror pictures!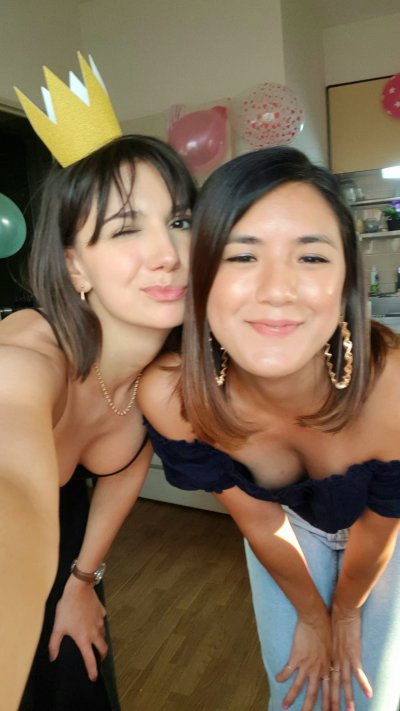 Me and Her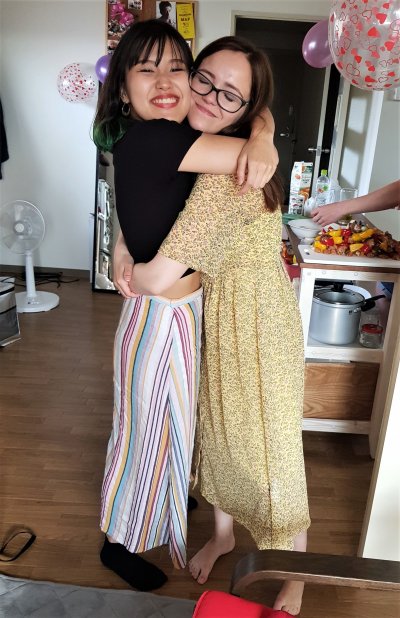 Anri & Katya - Spread the love ladies!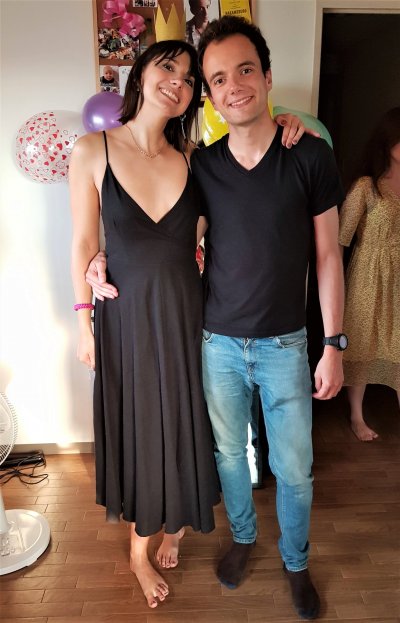 My frenchie and favourite dance partner - Maxou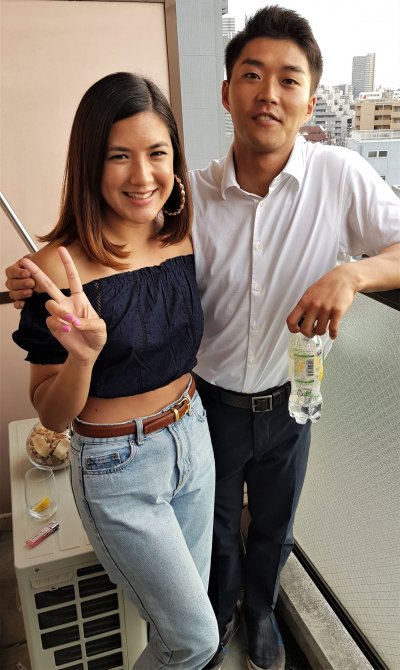 Vndu and Ryosuke, heh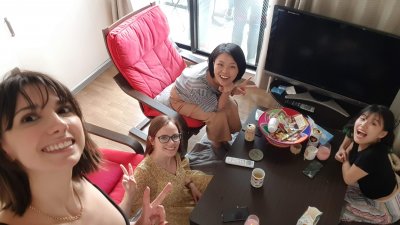 Ladies selfie time!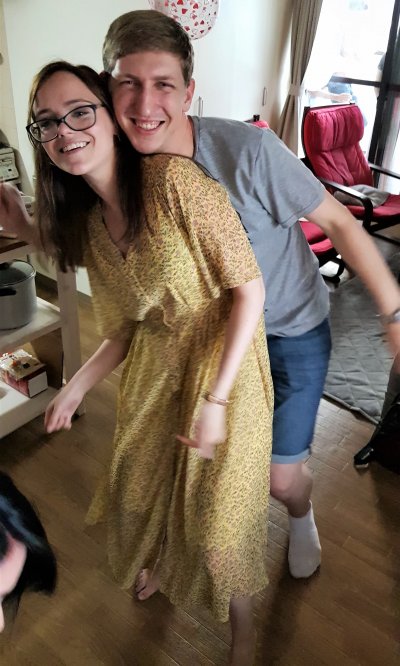 The bride and groom to be (in August)!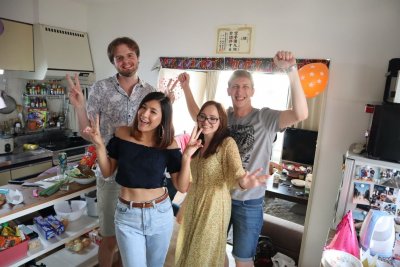 Party people in the mood!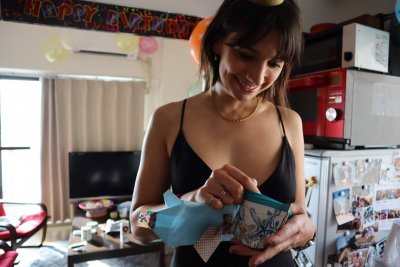 Unwrapping my gift from mama Mason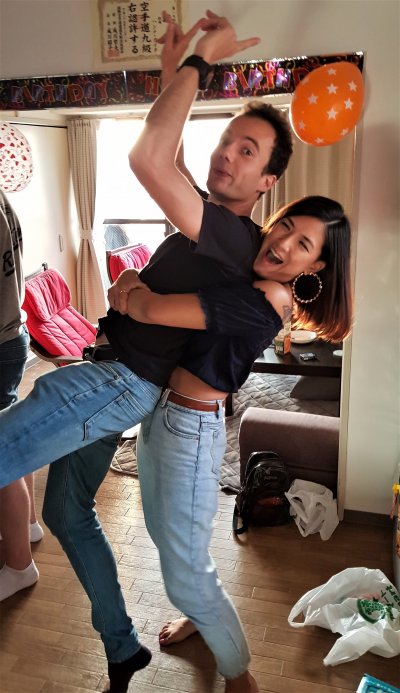 She's a lot stronger than she looks ...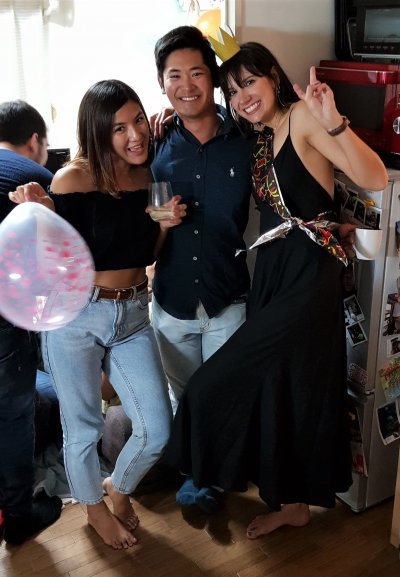 Vindu and I with Naomi-san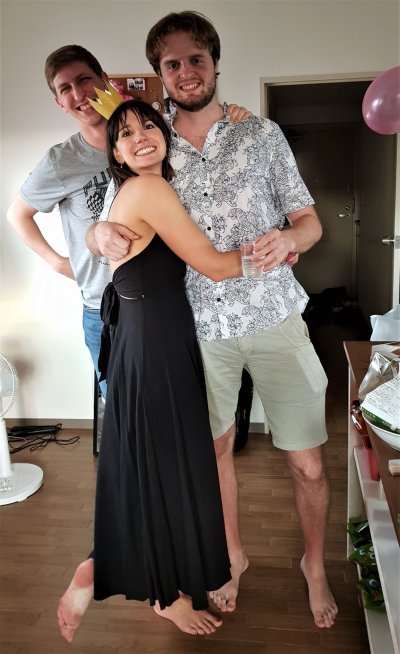 Spreading some more love with Vik and Fiodar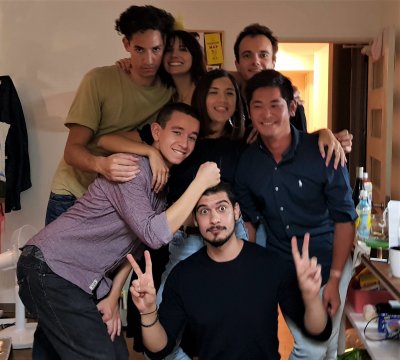 Last picture taken before going out, no one can expect it to be fully sharp
I am so overwhelmed by all of it. So happy and I can't express in words all the wonderful things I'm feeling! I just had to share it.
Again, gratest thanks to everyone who made this night so special. I will remember it always!
All my love
/Hanna
---
Other posts